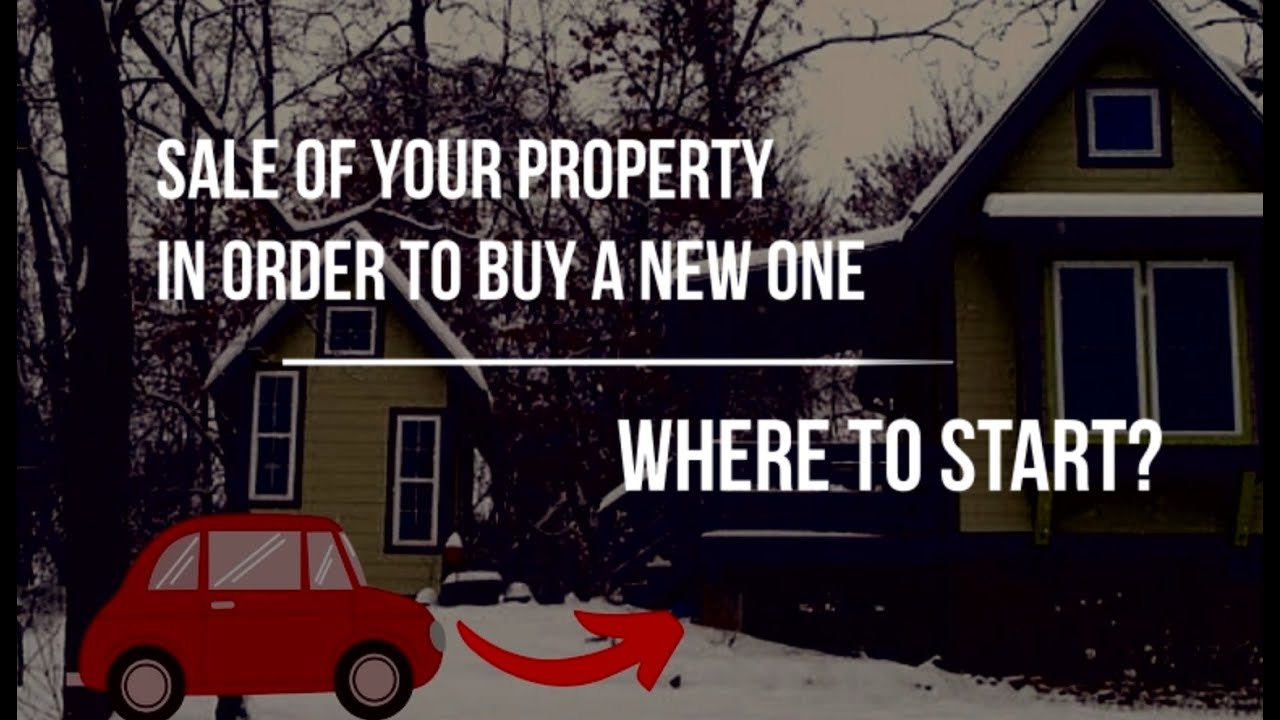 Very often people want to sell their current property and use this money to buy another one. Someone call it Exchange. How does it work?
Just to be clear – there are no such thing as Exchange nowadays. Several decades ago people could indeed exchange their 3 bedrooms apartment for two 1 bedroom flats. But it doesn't work anymore. What we talk here about is two separate things – sale of your current property and purchase of a new one.
But should you first sell, then search what to buy? Or to first find a new one, reserve and then sell? Let's look at four scenarios and see their pros and cons.
Watch my video or read an article below.
Scenario 1. First sell, then look for a new place
You think: I don't know how long it will take me to sell my place, neither how much I can get for it. I better sell first, then with the money in hand I can concentrate on my search.
Pros:
You exactly know how much money you have to buy your new place.
Cons:
But don't forget that once you sell your property, you'll have to move out somewhere until you buy your new home. This may include extra expenses for renting or a storage for your belongings.
It may happen that once you finally have the money, there are no interesting offers on the market. The longer you search, more of your money is eaten by the inflation while prices of the real estate are keeping on growing. I've heard sad stories when people sold their properties but have not found another one and finished all their money.
Scenario 2. First start selling, once you have a buyer, start searching for the new place.
Pros:
Having a reservation agreement signed with the buyer, you'd feel more secure to start searching as you know the final amount you'll have in your pocket soon.
Cons:
But again don't forget that you'll have to leave your property in at least 2 months from the reservation agreement is signed. It means that unless you find something to buy immediately, you'll have to move out to a rental or some other temporary place as your own purchase transaction will be no faster than 2 months from the moment you found the place.
Sometimes people don't have extra cash even for the reservation of their new property and hope to use for this purpose the reservation fee of the buyer. It cannot be done. You can touch this money once you're eligible to do it according to the reservation contract, for example, if the buyer change his mind to buy your property.
Scenario 3. First find a new place, reserve it, then sell.
Pros:
The hardest task of the whole process – is to find the right thing to buy. Once you found it – to sell your current property with the right price and good marketing is not a hard task. This way you can move from your previous place to a new one without a need of a temporary accommodation. Make sure though that you reserve your dream place for at least 3 months.
When you buy and sell at the same moment, you'd avoid a price gap which may appear if you'd buy later because the prices constantly grow.
Cons:
If the price of your current property is set up too high or if there is not enough advertisement done for the sale, it may take you more time to sell it, putting under the risk your reservation of a new property. Hence it's crucial you set up a proper sale strategy before reserving your new place.
Scenario 4. You buy the new property with a bank loan and will pay it out when you sell the current property.
There is an option to take a special loan, in Czech překlenovací úvěr. It consists of two parts: a loan for 80% of the value of your current property, which you will pay off from its sale, and a mortgage for the difference between the amount of the loan and the price of the new property. Let me give you an example: you are selling an apartment worth 3 million crowns to buy an apartment worth 5 million crowns. The bank will give you 80% of the value of your current property, i.e. 2,400,000 crowns in the form of a loan, and the remaining 2,600,000 crowns it will give you in the form of a mortgage. Once you sell your property, you will pay back loan of 2.400.000 crowns and will continue paying the mortgage of 2.600.000 crowns.
Pros:
You will have money to buy a new property, regardless of how quickly you sell your current one.
In this case the bank will not request a downpayment of 10-20% of the value of new real estate, as is the case with a regular mortgage.
Cons:
You must be creditworthy, because the bank will evaluate whether you will be able to pay monthly fees for the full amount taken, in our example 5 mln crowns until you sell your property.
Currently, only one bank issues this type of a loan. Whether it will give this loan to you the bank would consider individually.
At the time of using this loan, you will pay only the interests, but not the body of the mortgage. You will start paying it as soon as you pay off the first part – the loan.
Anyone who bought or sold a real estate knows that these processes are pretty complicated on their own. And when one depends on the other, it makes the whole process even more complex and stressful. Therefore, it is good to have the same specialist who takes care about both transactions. Then there is the greatest chance that the whole process will be completed successfully.
If you are thinking about selling your real estate to buy a new one, contact me and we will find the best scenario individually for you.