Gallery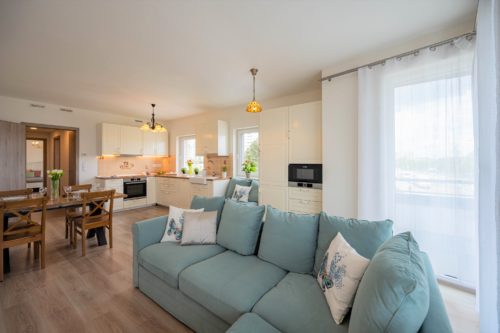 Floor plan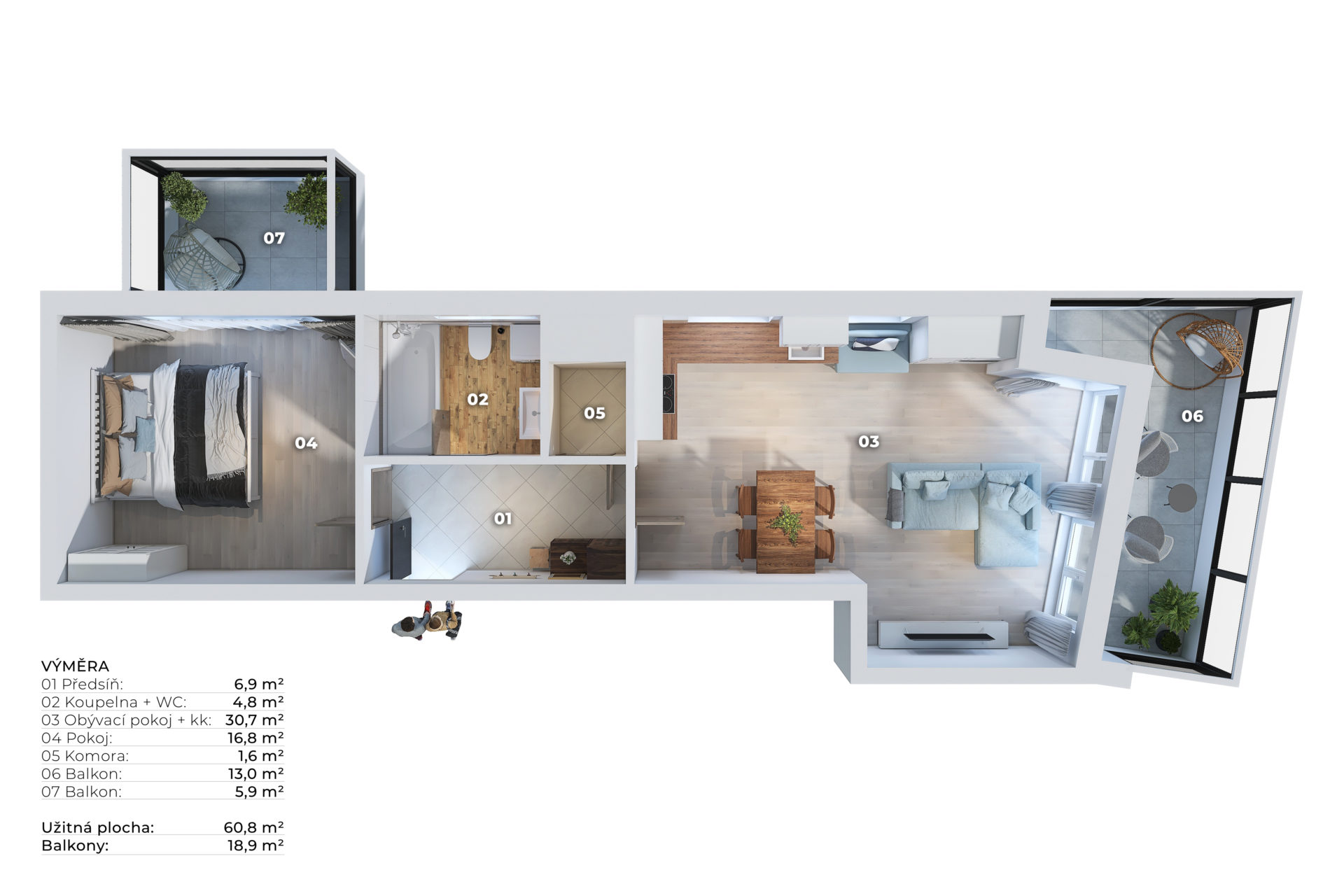 Property description
We offer for sale one bedroom apartment with two balconies, in Freiwaldova Street, Prague 4 – Kamýk. The house is part of the project "Nad Modřanská roklí".
The area of ​​the apartment is 60.8 m2 plus two balconies of 13 m2 and 6 m2. The price of the apartment includes a cellar (3m2) and a garage under the building.
The apartment is located on the first floor of a new building from 2018 with an elevator. The layout of the apartment consists of a spacious living room with a kitchenette, a bedroom, a bathroom with a toilet, an entrance hall and a practical storage room.
The apartment is equipped with a kitchen including high-quality Bosch appliances (fridge, dishwasher, hob, hood, electric oven, microwave oven).
The apartment has a high standard of design, including preparation for external blinds and recuperation – this is a modern system of effective air exchange, where, primarily in the winter months, the heat of the exhaust air is used to heat the air that is brought in. In the summer months, on the other hand, this system is able to cool the supplied outdoor air by up to 6 °C. Controlled ventilation with heat recovery thus brings savings on heating and at the same time creates a healthier home. At the same time, the apartment is equipped with security and fireproof entrance doors. All doors, internal and entrance, have an increased height of 2100 mm.
A big advantage is the energy consumption of building B, which is very economical.
The location is just a few steps from the beautiful nature park Modřanská rokle. In fact, across the street there is an almost endless possibility of relaxation in nature and a number of cycle paths. The project "Nad Modřanskou roklí" represents promising housing with excellent transport accessibility, which will be even more enhanced in the future by the new metro line D with metro station "Libuš" being located in just 300 meters from the house. All civic amenities are nearby – shops, sports grounds, medical facilities, kindergartens, primary and secondary schools, including international ones.
The purchase of an apartment can be financed with a mortgage, which we will gladly help you arrange.
In the event that several serious buyers show interest in the purchase at the same time, the owner reserves the right to choose the offer according to his preferences.
Cooperation with real estate agents is welcomed and encouraged!
Price
CZK 7.499.000 incl. real estate fee and legal services
Property location