Gallery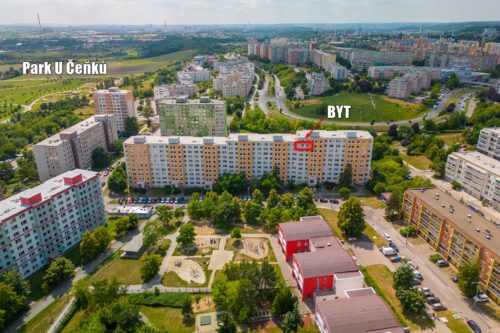 Floor plan
Property description
Are you looking for a spacious, sunny apartment for your family, located in a location with plenty of greenery and a few minutes far from a metrostop? Then have a look at our offer of a cozy apartment for sale in Prague 9 – Černý Most.
The apartment has a current layout of 3+1, i.e. two bedrooms, one living room and a separate kitchen, which can be converted to 4+kk by placing the kitchen-line in the living room. The total area of ​​the apartment is 77 m2, where the living room is 20.5 m2, kitchen – 12.75 m2, bedroom – 12.28 m2, children's room – 12.1 m2, corridor – 11.84 m2, bathroom – 3.23 m2 , WC – 0.85 m2, glazed loggia is 2.45 m2, storage room on the floor – 1 m2 and cellar 3 m2.
The advantage of the apartment is that it does not require large investments. The apartment was partially renovated, where the only thing left for the new owner to complete according to his preferences is the kitchen. However, you don't have to do it right away, as the existing kitchen is also fully functional.
The apartment is located on the 8th floor of a 9-storey insulated panel building and offers a beautiful, unobstructed view of the surrounding area.
The property is located in a very pleasant location, which offers both excellent civic amenities (kindergartens, school, polyclinic, Černý Most shopping center) and the availability of public transport, including metro stop in a walking distance, as well as living in the surroundings of nature – the house is almost on the edge of the blocks and neighbors with the park U Čeňku and the golf resort Black Bridge. Drivers will appreciate the excellent transport connections to the Prague ring road.
The purchase of an apartment can be financed with a mortgage, which we will gladly help you arrange.
In the event that several serious buyers show interest in the purchase at the same time, the owner reserves the right to choose the offer according to his preferences.
Cooperation with real estate agents is welcomed.
Price
CZK 6.390.000 incl. real estate fee and legal services
Property location