Video
Gallery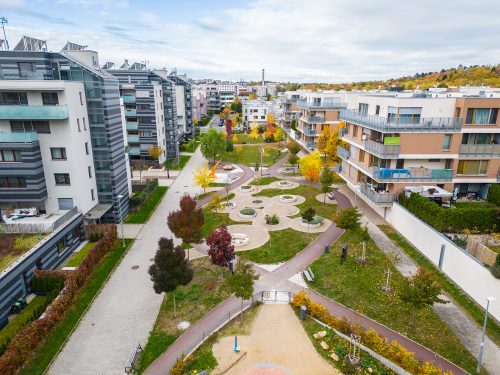 Floor plan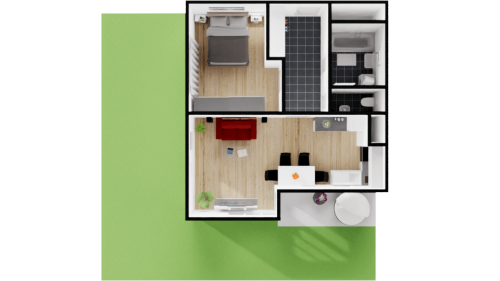 Property description
We offer for sale a one-bedroom apartment with a front garden located in a new building from 2017 as part of the unique Botanica K project built by Skanska Group. The successful development project Botanica K is designed as a low-energy standard, ensuring insulated building envelopes and quality windows. Solar thermal collectors on the roof of the residential building are used to preheat hot water. In addition to the high-quality materials used, the new building also offers a system for managing recycled, or graywater. This means that recycled water from the bathrooms is used for flushing toilets.
The total floor area of the apartment is 57 m², with a living room of 28 m², a bedroom of 13 m², a hallway of 7.3 m², a bathroom of 3.9 m², and a WC of 1.6 m². You can access a cozy terrace of 4.6 square meters directly from the living room, as well as a beautifully landscaped front garden of nearly 60 m².
Each window has a safety handle with a lock. All windows have pre-window blinds with electric control. The apartment is barrier-free.
The offer includes a larger parking space in the basement of the building and a cellar unit. In the underground floor, there is a bike room and a room with a shower for washing bikes, strollers, or muddy paws of domestic pets. Right next to the building, you will find two charging stations for electric cars.
The Botanica K residential quarter is located in close proximity to the Košíře – Motol natural park, which includes the natural monument of the mountain Vidoule, one of the highest hills in Prague. Nearby, you'll also find a golf course, international schools, kindergartens, a multi-year gymnasium, the English nursery school Little Bear, and Gymnázium Jaroslava Heyrovského. For shopping, you can walk to the Lidl in the Bucharova Shopping Center (600 m) or to the Galerie Nové Butovice, where you can find all kinds of shops, services, and restaurants. The Prague 13 municipal office and the City Police are also located nearby. Transportation is well-served by a nearby bus stop (200 m) and the B "Nové Butovice" metro station (850 m). Across Pekařská Street and the Bucharova intersection, there is direct access to the D5 highway, making it about a 15-minute drive to Ruzyně Airport terminal by car.
If you are interested in viewing this property, please do not hesitate to contact us. We will be happy to provide you with further information and arrange a viewing appointment.
The purchase of the flat can be financed with a mortgage, which we will gladly help you arrange.
In the event that several serious buyers show interest in the purchase at the same time, the owner reserves the right to choose the offer according to his preferences.
Cooperation with real estate agents is welcomed.
Price
CZK 8.499.000 incl. real estate fee and legal services
Property location